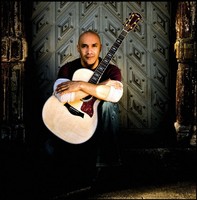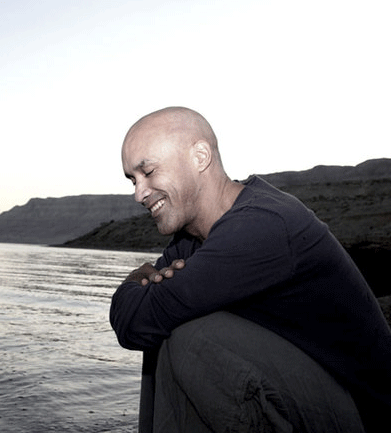 Dan Reed was born in Portland, Oregon, but in early childhood moved to South Dakota after his mother remarried the owner of a cattle ranch. Growing up on 2000 acre's of land as an only child gave Dan plenty of time to daydream and it was here, riding tractor in the summer sun that Dan first fantasized about becoming a musician while listening to the Doobie Brothers, Kiss, Cheap Trick and Van Halen blaring on the tractor cabs' AM radio. All through his high school years he played trumpet in the school band, while studying Shoto-Kan Karate, and participating in every sport he could get his hands and feet in to, but it wasn't until a Japanese exchange student named Tsutomu Oki taught him how to play guitar that Dan realized that this was what he was searching for... the world of writing songs. After graduating from Aberdeen, South Dakota's Central High School, he packed his bags and headed west to Portland, Oregon, his place of birth and the closest 'big city' he could find near the ocean, a place he held in his childhood memory and missed dearly living in the Midwest.

Although there were many incarnations of bands Dan performed with in South Dakota and in Portland it was in December of 1985 where he truly first began his musical journey as the lead singer of a band called "The Dan Reed Network". Garnering huge local support the band signed to PolyGram Records in the summer of 1987. Home of Bon Jovi, Def Leppard and Tears For Fears. The Dan Reed Network released three very successful albums to much critical and commercial success between 1988 and 1992.

The band had the honor of 'seeing the world', opening for such bands as RUN DMC, UB40, David Bowie and Bon Jovi, eventually becoming the supporting act for the Rolling Stones' 1991 European tour. It was at this time Dan journeyed to India with Bob Guccione Jr. to interview the Dalai Lama for Spin Magazine. It was during this trip that Dan began to hunger for more than the pop/rock music scene had to offer.

This was the catalyst for the long journey that Dan has taken, bringing him back in 2008 where he belongs, writing and performing new music with experiences wth the "rock star image" behind him. In the 1990's he started an independent record company in his hometown of Portland, Oregon to help promote local Northwest bands, while at the same time studying acting. Dan was cast in a number of plays and small role's in television and film projects, and was given great reviews for his performances, which gave him confidence to take it to the next logical step- screenplay writing. 'Zigzag', a script penned by Dan, caught the eye of a local production company in Portland and was produced in 1997 with Mr. Reed playing the leading role. The film reached the Top 20 in Billboard's home video rental category.

In 1999 Dan became a partner in an established blue's and rock music nightclub in Portland called Key Largo, the same club DRN played regularly and where Bill Graham first discovered the band. Realizing that the electronic music scene was primarily to date confined to warehouses, special events and outdoor parties, he saw an opportunity to turn Key Largo into a 'hybrid club', having live bands from 9pm to midnight and then switching gears from midnight to 4am with local and international DJ's. Renamed 'OHM Nightclub", the venue became the premier spot to check out cutting edge music, while at the same time introducing the future of music to the rock audience.

After attending the Burning Man festival in late 2004 Dan realized that being pinned down in the nightclub world had it's dangerous side, for not only did he help create a great success with OHM, but he also succumbed to the darker side of the nightclub business fueled by alcohol and drugs. He realized his talent and his energy were being drained from the constant parties, substance abuse and endless late nights. With his father Thomas Reed being diagnosed with cancer and passing away shortly thereafter, Dan rallied his energy and left the Nightclub, did construction work for a year to clear his head, then headed back to India. Ironically the same place that gave him the courage to leave the music business 15 years before, was soon to become the inspiration to return to the music. Immediately upon arriving in Dharamsala, India in 2005 Dan sought out the Tibetan monks, feeling a need to connect with their philosophy and lifestyle. After befriending two monks Lobsang and Sonam, Dan was invited to live in a monastery guesthouse and with that came the ability to attend the daily prayer meetings and rituals.

During a year long journey in India, Dan had met many Israeli musicians and artists vacationing throughout the country and became fascinated with the stories of Israeli life, the hope and the tragedies, and after meeting a fashion designer turned energy healer named Adi Hadani, he decided he would venture to the Middle East to see what he could learn about the beauty and the conflict of this most interesting and enigmatic part of the world. Upon visiting Kfir Shtivi in Jerusalem, an Israeli musician he met in Varanasi, India, Dan made the decision to re-locate his recording studio and his life from Portland to the ancient city of Jerusalem in 2006. It was here that he found the renewed spirit to channel his energies to his first love. MUSIC.

It was at this time Max Wasa, an old friend, musical producer and creator of LIQUID MUSIC GROUP, offered to take Mr. Reed out of the home studio and bring his music back in to the light of the public. Max enlisted her long time associate Clay Ostwald of Miami Sound Machine and with his partner Tommy Anthony of RED ROCK PRODUCTIONS, they collaborated with Max and co-produced the tracks Dan had begun tracking back in Jerusalem, working with Israeli and Palestinian musicians alike. This process was the beginning foundation of how half of the new album was created. The second stage was 'coming back home' to Portland and working with producer/artist Rob Daiker at 'The Commune' studios which culminated in producing 6 more tracks and creating the finished product- 'Coming Up For Air'.

Dan now lives in Paris, where he has created the new label 'ZERO ONE' where his debut solo album will be released, as well as many other artist will be represented. With 'Coming Up For Air' Dan presents a group of songs that mirror his life journey and the search for that elusive deeper resonance we all hunger for at some point in our lives. With songs composed from Hong Kong to New Delhi, Jerusalem to London, he has come full circle to do what he has always done best- create and to perform to all who will listen.